This is a remake of an old thread we used to have. I guess I will start
Spoiler:
I don't like to have icons on my desktop since I like to see my background wallpaper. I pretty much organize everything into my start menu and into other folders.
Also this is just one of my backgrounds. I have a folder of wallpapers that I cycle through.
on 5/15/2017, 1:02 pm
Message reputation : 100% (1 vote)
Spaaaaaaaaaaaaaaaace
I too hate having icons on my desktop. I rarely launch stuff from the desktop anyways so I always choose to just show my wallpaper.
WALLPAPER:
on 5/16/2017, 6:01 pm
Message reputation : 100% (1 vote)
---
your gonna ban me for this.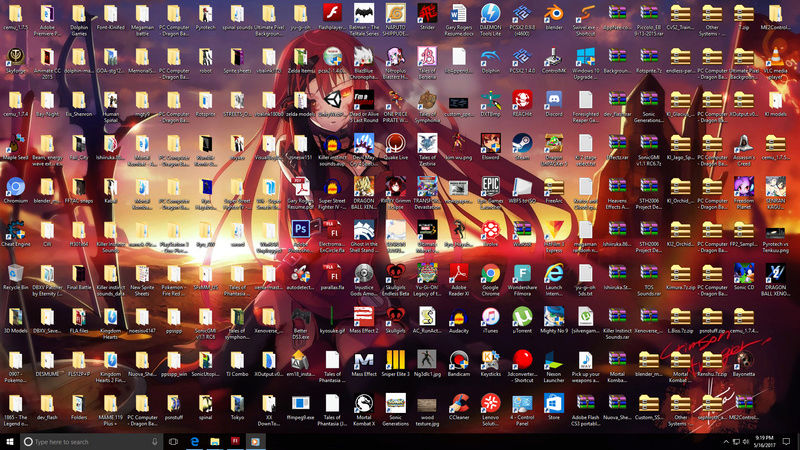 ---


My upcoming projects

Captain Falcon vs Bang Shishigami: 4%      Vergil vs Sephiroth: 60%      

Killer Instinct Origins: TJ Combo:10%        Dragonclaw vs Evil Ryu Remake: 10%

Lloyd vs Kratos:13%                Kratos vs Cloud:10%        Ryu Hyabusa custom sprites:1%
I feel the urge to stab my eyes out looking at that.
I barely get to use my desktop anymore, and with school starting I'll probably start using my laptop now so I'll post that sometime. I have OCD so I can't justify having only desktop because it'll freak me out (I literally kept my stock desktop that came with my old laptop for 5 years before I got another laptop) so I have a rotating stock of backgrounds. But I'm posting this on a school computer so I'll show you guys the awesome personality of my school.
Spoiler:
---
made by Knux184
We can learn from the past
But those days are gone
We can hope for the future
But there may not be one
-Mike Portnoy "A Change of Seasons"
Permissions in this forum:
You
cannot
reply to topics in this forum