Okay, this is the last time...
Taiyo:

Gender: Male
Abilities: Light Manipulation using the Sun. He can gather Sunlight to make himself and his attacks more powerful. (Note: The form at the bottom is NOT it)
Weakness: Darkness. Sort of like Roy Mustang when it's raining...useless... But...
Primary Element(s): Wind, Fire
Weapon: Kingdom Key?/ Ultima Weapon
Amateratsu(Or Ammy for short):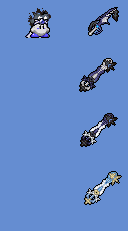 Gender: Female
Abilities: Darkness/ Noise Manipulation (If you've ever played MegaMan Starforce 3. you'd know what I'm talking about) When enough negative energy is formed, Ammy can use it to her advantage, distorting areas, going through attacks, etc.
Weakness: ...? (Invulnerable to light due to her cape, kind of like the robes that Org. XIII in KH wear which makes them immune to darkness)
Primary Element(s): Dark Fire, Dark Lightning
Weapon: Way To Dawn/ Negative Ultima Weapon
Taiyo: 90% Complete
Ammy: 30% Complete
I'm thinking of making a story with these two characters where they both travel to the same worlds (Naruto, Sonic, Mario, DBZ, etc.), but one would side with the hero/heroes of that world while the other sides with the villains. Any thoughts? What do you think?
---
I'm really liking those weapons and character palettes. o:
UPDATE: Here's Taiyo's Unfinished Sprite Sheet: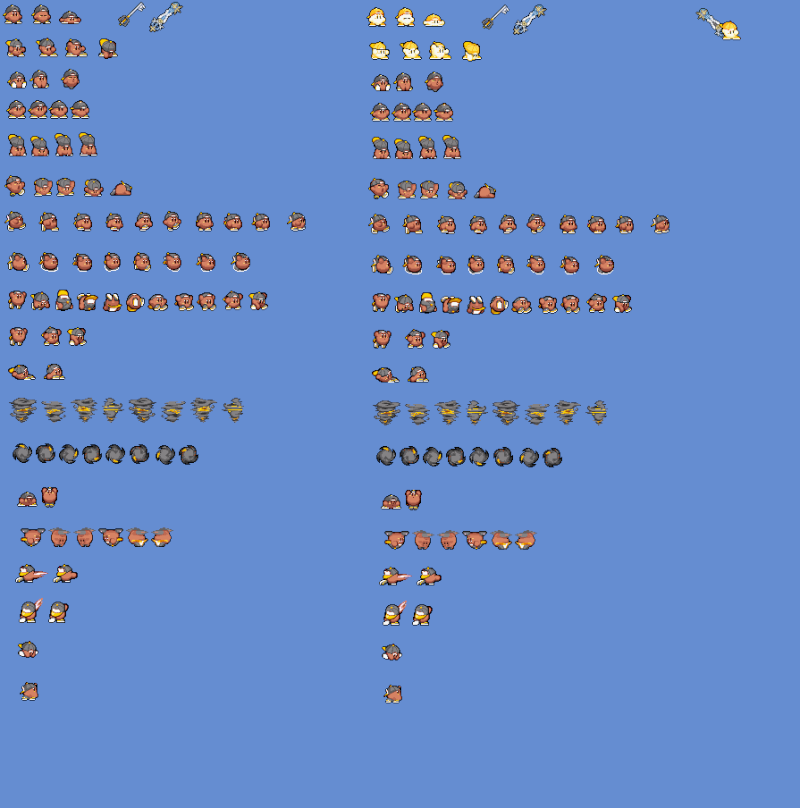 Anyone have any Kirby sprites w/ Hats? I can't find any punching / kicking / slashing ones...
If not, I'll have to edit the hats in myself...this is going to look ugly. D:
---
---

---
" />
Permissions in this forum:
You
cannot
reply to topics in this forum