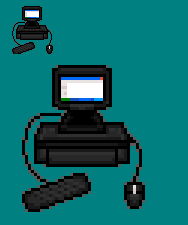 A computer I made over a year ago.
As you can see I added grey pixels in the corners like the Mario & Luigi sprites.
And yes that is supposed to be MS paint on the screen.
Lol nice man, that looks professional as hell.


EPIC MAN, it kinda looks realistic idk. I wish i could sprite like u man
---
The computer is good but I think that the antialiasing you tried to pull off didn't work that well. It's probably just me, though.
Actual I have the game on my PC and there is no gray scale in the game. the sheet wasn't a clean rip.

It's pretty good no flaw at all.
Actually it does use those grey pixels. Just look at almost every sprite rip ever from all three of the games.

Hell, you can actually see them in the games if you look closely enough.
---
Permissions in this forum:
You
cannot
reply to topics in this forum